Post by Justin on Oct 12, 2012 13:29:01 GMT
My computer is slower ... f**k you internet!!!!!!!!!!!!
How to make your computer run faster - Justin
I hear a lot of complaints from people that their computer is slower than it was when they first got it, and the first thing they do is blame their internet provider when in reality it has very little to do with your internet.
So I have written this tutorial to help people make their computer run better, but won't be booming fast.
The first thing you should do is run an antivirus scan, I would recommend downloading Microsoft Security Essentials then running a scan, from experience Security Essentials picks up Windows viruses better then any other antivirus program free or paid.
Note: Run a full scan
While you're waiting for it to scan you can remove all un-needed applications you have downloaded that you no longer use or was downloaded when you downloaded something else.
To remove applications:
Windows 7/vista: Start - Control Panel - Programs/features
Windows XP/2000: Start - Control Panel - Add/Remove Programs
I am going to remove the highlighted programs because I don't use them or care for them
Next, remove the start up programs!!!! these are frustrating and the first thing I do when I get a customers machine to repair, some of you may have noticed that when you start up your machine all these applications open up so you just hit the "X" but that doesn't close them because they are still running in the background taking up memory.
Note: You will have to restart
Go to start - run - msconfig - click the start up tab and you should see this screen now: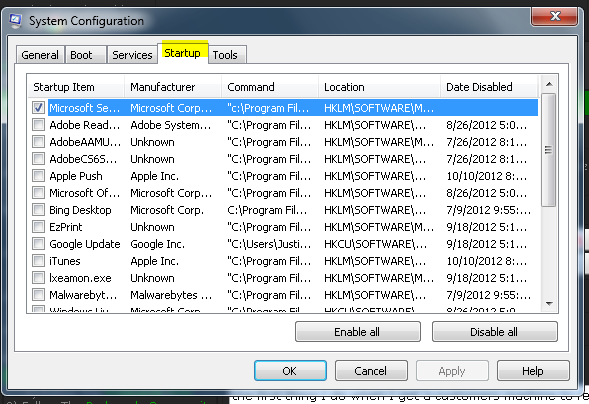 Now in order to close all applications from running click the checkboxes next to them, however remember to keep your antivirus running, as you can see my anti virus is the only applications I have running at startup if you don't run it at start up Windows will yell at you and you won't be protected!
Next, run disc clean up! while some think this is unimportant it is actually pretty important as it clogs up your memory.
To access it:
Start - All Programs - Accessories - System Tools - Disc Cleanup
Choose your main partition (C:) and it will calculate, depending on how much it has to calculate this can take a while -play elevator music here-
Alright once it loads up I click every box and it will tell you how much you gain, I did not gain a lot as I did this 2 days ago, however if you have never ran this utility you will see a larger number.
And finally the big one, this one you have to run at night when you are sleeping and CAN NOT open any programs while this is running or it will mess it up and it will restart. this is Disk Deframenting!!!
I did not use the default one that windows has as I think it sucks, I installed a 3rd party one called Piriform Defraggler:
www.piriform.com/defraggler
but it doesn't matter which one you choose as they do the same thing, now to get to the default:
Start - All Program - Accessories - System Tools - Disk Defragmenter.
Again, run this while you sleep because it will take a long time, especially if you've never ran it before.
Also, once all this is done I would restart.
That's all, any questions/comments feel free to comment as I know this isn't the best worded tutorial out there