Post by Mr. McMahon on Oct 8, 2012 12:34:33 GMT
OK, I'm going to try and start doing these "Monday Headlines" type articles each Monday just discussing the top one or two headlines to come out of the weekend's action. It won't usually be about the results themselves, more stories which have resulted from the games.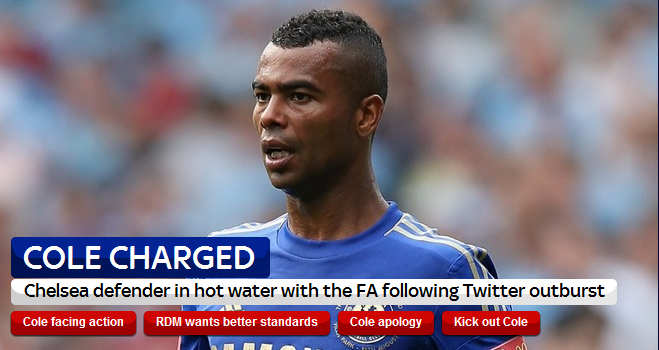 Ashley Cole Charged
[/u]
Chelsea defender Ashley Cole has been charged after a Twitter outburst which the FA (not surprisingly) considered to be "improper and/or brought the game into disrepute". The reason the FA consider this unsurprising? Well, essentially he called them a bunch of twats.
Cole hurled the insult towards the FA after the their independent regulatory commission ruled that John Terry's case in his racial abuse trial was contrived, and cast doubt on his evidence.
The former Arsenal defender has until 4pm Thursday to respond to the charges.
Now, personally I'm really not an Ashley Cole fan. I will readily admit I don't know the guy personally, but anyone that earns that much cash, plays for England, is generally considered a twat himself and got to plough Cheryl Cole (and who isn't me) is frankly not someone I care for. I'm not jealous of him. At all. Honest.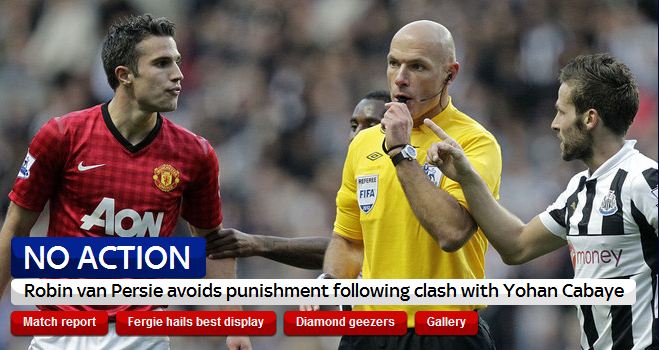 RVP Escapes Elbow Punishment
Taken directly from BBC Sport:
Manchester United striker Robin van Persie will not face Football Association action following his off-the-ball incident with Newcastle United midfielder Yohan Cabaye.

Magpies manager Alan Pardew wanted the Dutchman charged for striking Cabaye with his elbow during Sunday's 3-0 defeat to the Red Devils.

But referee Howard Webb has reviewed the incident and does not consider it to be an act of violent conduct, so no retrospective action can be taken by the FA.

Pardew said he had not seen the second-half clash involving Van Persie and Frenchman Cabaye as it happened, but had watched it on replay.

"He has looked at Yohan and he has elbowed him," he said. "I think that perhaps needs to be looked at, if I am honest.

"Yohan wouldn't have gone down if he [Van Persie] hadn't done something."
What confuses me is that Pardew and Webb have evidently both seen the same replay - and Pardew has decided that the elbow was basically malicious. Webb disagrees.
What do you guys reckon? I will admit I didn't see it so as much as I'd love to blast Alan Pardew to high hell for it, I really can't do it