Post by Deej. on Jul 21, 2012 11:16:35 GMT
4DK's Co-Owners, DJ Hipp and Steve Storme, are as always, in their secret room that only they are supposed to know of. Storme is wearing his usual black suit and tie but Hipp is wearing wrestling attire and a tie as his match is up first tonight. The couch the usually sit on has been replaced with a mattress, so they sit on that.
Hipp
Storme. I have to tell you...
Storme
You know how excited I am about tonight?
Hipp
Steven. I'm happy for you, really...
Storme
Tonight I step in the ring with PsyDrag in a Light Tube Coffin Match!
Hipp
It's the Greatest Story Never Told.
Storme
Now available at retailers everywhere.
Hipp
Everywhere is a lot of places.
Storme
Your damn right it is.
Hipp
But like I was saying...
Storme
Like you were saying, wait a sec. What was that s**t with the Queen?
Hipp
She wanted me to take my mask off...
Storme
Fine but why were you recording? You didn't think she was into that kinda s**t...
Hipp
Well atleast now she can't deny that she's into me.
Storme
As if it wasn't obvious right?
Hipp
Yeah whatever. She's over it now anyways.
Storme
Odd how it just happened but it seems like a month ago.
Time freezes and Storme looks into the camera and winks before time restarts.
Hipp
We should go visit that bar again. I still can't believe we got kicked out.
Storme
You know he'd let me in now right? Cause I'm "lighter-skinned" these days.
Hipp
f**k that then I don't wanna be the only guy getting kicked out.
Storme
It's really bullshit they won't let you in bro.
Hipp
Steiner's always raving about the place but I might as well forget it.
On que, Steiner walks in this time with Kristal Marshall, Bobby Lashley's wife.
Steiner
Come on Kristal, let me show you the recliner!
Hipp
What did I tell you about stealing Bobby Lashley's wife, Steiner?
Storme
...Hipp what did I tell you about letting people in our room?
Hipp
Actually I have no idea.
Queen Z walks in and grabs Hipp by the arm, telling him they need to talk. Hipp and The Queen leave. Steiner convinces Kristal to let him show her a few things.
Steiner
Hey Storme, you want in on this?
A furious Bobby Lashley breaks the door off it's hinges and Spears Steiner through the wall. Storme tip toes out of the room and shuts the door.
The crowd is eccentric for tonights show featuring Hipp vs Orton and Storme vs Psycho Dragon! You can barely hear yourself think in the arena with chants of "DJ Hipp!" all throughout the building.
Queen Z
Heeeeeeyy all you 4DK fans we're here at undoubtedly the biggest 4DK show in our history of three shows! And the fans are on their feet anticipating our Co-Owner DJ Hipp's entrance.
Ellie Phantom
He's the best!
Queen Z
Don't be bias, Ellie.
Ellie Phantom
He's one of the best!
Queen Z
One of? Psh, he's the best, El!
Swords Of Doom
plays and the crowd erupts. DJ Hipp walks out with his staff in hand but he tosses it to the Queen. Hipp takes off his tie as the smoke grenades go off, followed by his trench coat when he gets to the ring.
An angry Scott Steiner grabs the mic.
Scott Steiner
I'll get my revenge on that sumbitch Lashley later, but for now making his way to the ring, The Undisputed Rula Of The Universe or Universal Studios or somethin', DJ HIPP!
Randy Orton gets a jobber entrance and therefor was already in the ring.
Scott Steiner
And in the ring alrerdy, he is the master of the RKO lock, Randy Orton! Ladies and genterman, this is a Depths of the Demons Death Match. And what that means is IYM not sure exactly. But theres a shark tank, and to win you have to put your opponent in it.
Queen Z
It's actually a tank full of pirhana's and it's right on the other side of the entrance stage but, he tries.
Ellie Phantom
If your not trying, your cheating!
Queen Z
I don't think you got that phrase right, El. Either way don't look now, it's our mystery guest, Doctor Cube! Thanks for joining us!
Doctor Cube
Holla, Holla, Holla, Playas!
Depths Of The Demons Death Match
DJ Hipp vs Randy Orton
As soon as the bell rings, Orton goes for the RKO Lock. He wasn't exactly sure what it was, but he wanted to apply it before Hipp could figure a way to counter it. Basically it's instead of doing the RKO, he does the same motion only wraping his arms around your head into a hold instead of dropping you. Sadly for Orton, Steiner already tipped Hipp off on how to counter it and Hipp kicks his leg back for a low blow on Randy. Hipp picks Orton up and drops him on his head with a brainbuster.
Queen Z
Guess we found out what the RKO Lock is.
Ellie Phantom
Hipp countered it!
Doctor Cube
That's cause he's a playa! Holla!
Hipp waits for Orton to get to his knees and knocks him back down with the Boot On Fire (Tidal Wave). Hipp goes for Smashing Surgery (Rolling Back Chop) but Orton counters it into an RKO. He falls to the mat and pounds on it like he does but then goes into punt position. He starts running but Hipp rolls out of the way, jumps up and hits the Soul Food Lariato (Burning Lariat). Hipp then springboards off the ropes and hits the Second Best Moonsault Ever (Best Moonsault Ever)!
Ellie Phantom
Second best moonsault everrrrrr!
Queen Z
Damn that Daniels for copyrighting the term "Best"
Doctor Cube
I remember Hipp using that move when he fought DAH UNDATAKAH!
Orton gets up holding his head, rakes Hipp in the eyes, and begins his usual comeback sequence of two clotheslines and the powerslam. He picks up DJ and hits an Angle Slam! Orton then goes for another RKO but Hipp counters and pushes him away. Hipp goes for the Yakuza Kick but misses and Orton hits him with a big boot. Orton pulls his snake out of his trunks, and wraps it around Hipp's head. DJ takes the toy snake off and throws it out of the ring, but this distraction gave Orton a chance to get a roll up. But you can't pin in this match.
Ellie Phantom
No pins Randy!
Queen Z
Just when he was getting some offense.
Doctor Cube
I'm challenging Randy Orton to the White Boy Challenge!
Hipp slaps Orton for being stupid and then irish whips him into the turnbuckle before setting him up on the top rope and going up there himself. He connects with the Salt Of The Earth (Moonsault Fallaway Slam). Hipp hits the Yakuza Kick and Orton flips completely over in selling it. Hipp then goes to the top rope but not without bringing Randy with him. DJ has his back turned to the ring on the top rope with Orton spiked and upside down in position for the Cop Killa, and he hits it off the top rope!
Ellie Phantom
COPPPPPPPP KILLLLLLEDD!
Queen Z
Take that Copper! But now Hipp has to carry Orton's dead weight up the stage!
Doctor Cube
Rodney Mack could do it...
Hipp picks up Orton and goes to the top with him again, and does another Salt Of The Earth (Moonsault Fallaway Slam) but this time to the outside. He then preceeds to drag The Master of the RKO Lock's lifeless body up the entire stage, before picking him up at the top of the entrance stage and Yakuza Kicking him off and Orton is about to fall in the tank, but the lights go off. They come back on with Orton gone, and Dievari in the pihrana tank! He's begging for mercy but Hipp ignores him and re-enters the ring. The bell rings to sound that the match is over.
Scott Steiner
Here's your winner I guess since he put someone in the tanker, DJ HIPP!
DJ Hipp def. Randy Orton by Throwing Him Off The Stage via Yakuza Kick in 38:49Queen Z
Well Hipp did it, but instead of Orton, Dievari got put in the tank!
Ellie Phantom
HAHAH DIEVARI'S IN THE TANK!
Doctor Cube
He sure looked like a Playa that entire match. Well, I'm outta here, holla playas!
Hipp has the lights turned off and takes out his flashlight, pointing it at his face per usual.
Hipp
I saved Randy because I have much respect for him. Dievari took the place of his fate because I don't have any respect for him. He turned on his jobber friends because he thought he could impress Storme and mineself. But I am not impressed by such butchery. And unlike Dievari, I would never betray my few friends that I do have. Right here in the 4DK is the only place where that's mutual between me, and the greatest fans in the fan business. But I'm afraid my evil intentions have not led me to the correct decision when it comes to my newest of ones. I....I sold this great company. I sold it to my old friend Doctor Cube in exchange for his friendship once more, and a pair of vampire teeth.
The crowd boos but there is some laughs mixed in. Hipp hangs his head and doesn't want to face the crowd.
Hipp
I might as well get this done with...introducing the new 100% owner of the 4DK, the Master of Malpractice...Doctor Cube!
The lights come on and the new owner enters the ring and shakes Hipp's hand before dancing like Teddy Long.
Doctor Cube
About that playa! I don't know about this whole friendship deal as a matter of fact, for my first act as owner, you'll be facing...DAH UNDATAKAH! Holla, Holla, playa!
He begins dancing again until Hipp runs at him and knocks him out of his cube with a Yakuza Kick!
Queen Z
That's not Cube, that's...that's Teddy Long from Smackdown!
Hipp
I assure you folks, Teddy Long was an imposter. The real owner is the real Cube I swear!
All the lights go off and when they come on, Hipp and Teddy Long/Cube are both gone.
Hipp is just entering the backstage area where Steve Storme is pissed off waiting for him.
Storme
What the f**k!
Hipp
I tried to...
Storme
You do know Doctor Cube is a lamp right?
Hipp
A lamp...?
Storme
God damnit you just sold us to TEDDY LONG!
Hipp
Teddy was an imposter...
Storme
Well then you better find our real owner quick!
Storme storms off and goes to tape up his wristswhen the demon kitty appears before him.
Cat:
What did I tell you?
Storme:
Yeah yeah, I guess you were right.
Cat:
Hipp cannot be trusted. You were foolish to work with anyone but me.
Storme:
Look, I don't need a lecture, okay?
Cat:
Perhaps now you will act on my instructions without question.
Storme:
You still have a lot of explaining to do.
Cat:
In time, Storme... for now you must focus on Psycho Dragon.
Storme:
Heh. You overestimate that punk, he will prove no match for me. Do you forget what I have done in the past without your guidance? I made his career and so its only fitting that I'm The One to end it.
Cat:
So you intend to cripple your student?
Storme:
I intend to make him fight like the man I trained him to be... not this spineless pussy that stares at ceilings every broadcast. I am ashamed to have ever been associated with him. So if he doesn't bring his all tonight, I will crush him like an
insect
and take another step towards my true potential.
Cat:
Very good.
The cat slinks away into the shadows leaving Storme by himself.
Due to everyone being upset at the company being sold, both Robot Black Steve Storme and Gay Robot Fish got jobber entrances and Steiner didn't even bother introducing them.
Robot Fish Sticks Match
As soon as the bell rings, Robot Black Steve Storme grabs some fish sticks and runs over to a helpless "Gay" Robot Fish(according to Storme), who can't do anything but flop around since he's out of robot water. Robot Black Storme stuffs the fish sticks in "Gay" Robot Fish's mouth, and his tail hits the mat three times, which the ref takes for tapping out and this match is over.
Robot Black Steve Storme def. "Gay" Robot Fish via shoving fish sticks in its mouth in 0:25Dusty Rhodes
HE TAPPED OUT! I DON'T KNOW WHERE DE KID IZ!
Queen Z
As advertised, Dusty Rhodes...
Ellie Phantom
Pointless match really...
Hipp is alone backstage, thinking about who could be the new owner of 4DK. Suddenly, Doctor Cube walks in the room. He goes to shake Hipp's hand but pulls it away. Then he de-cube's. The look of horror on Hipp's face tells all as he looks again at this man and see's....
Vince Russo
Hey buddy! I'm the new owner!
Fade out. Fade in to Dusty Rhodes putting his bags in his car. He's just about to leave when a HIDEOUS lamp catches his attention.
Doctor Cube The Lamp
DUSTY! I WAS THE KID WHO RODE THAT BICYCLE IN THAT ARENER! IT WAS ME!
Dusty Rhodes
Wha?...
Glass, Light Tubes & Cell Match (GLC Match)
Big D. Smooth, Scott Steiner, Rodney Mack & Montel Porter vs OG Grimace, Bobby Lashley, Horatio Gates & Jason Dave
Steiner immediately goes after Lashley but gets speared again.
Grimace and Smooth face off in the center of the ring.
Rodney Mack begins working Jason Dave with some punches.
Gates and MVP are both trying to figure out a way to climb the cell.
Lashley spears both MVP and Gates for some reason just to say he's the boss.
Steiner gets up and gives Jason Dave a Belly to Belly before going behind Grimace, hitting a german suplex on the biggest man.
Big D. Smooth hits the Low Low (Running Splash) on Grimace.
Bobby Lashley jumps off Grimace and lariats the s**t out of Smooth.
MVP irish whips Horatio Gates through a glass table set up in the corner.
Grimace runs at MVP and crushes him between the cell bars and Grimace's fat.
Rodney Mack irish whips Jason Dave into Grimace, but he jumps off him and does the double knees to Mack.
Steiner and Lashley are having a test of strength. Steiner wins it and transitions into a Belly to Belly.
Jason Dave tries to double knee Steiner, but he gets caught and powerbombed.
Big D. Smooth Lifts Grimace by his legs and powerbombs him through another glass table.
Smooth stands on Grimace shoulders and exits the cell winning the match.
Team Smooth wins by climbing out via Grimace's shoulders in 31:19.Mark Henry
Looks like somebody, got they ass kicked!
Queen Z
Thanks for that, Mark.
Ellie Phantom
HE WINS AGAIN!
Russo comes out, not even wearing the disguise anymore. He tells Smooth to get back in the ring and he does and so does Russo. Joining them in the ring is Teddy Long still dressed as Cube minus the Cube, and Corpus Christi (Ted Dibiase wearing a bag over his head). Russo hands Big D. Smooth something, before giving a black leather belt each to Teddy and Corpus.
Russo
For my first act I figure what better way to Russo swerve ya, than to crown some champions so lets do it. Big D. Smooth has dominated this league, and has rightfully earned himself the Certificate of Winrawr. And as for these gentlemen Teddy and Corpus, they are the new 4DK Tag Champions just because they're both kinda affiliated with the name Ted. And lastly, the Baked Potato Championship is gonna be on the line in this next match. And i'm in it! So Average N. Get down here, we're having a match!
Corpus grabs the mic from Russo.
Corpus Christi
Russo, your HIDEOUS. These belts, they're HIDEOUS. Hipp is
very HIDEOUS
. And most of all, this company is so HIDEOUS, even my mother whose HIDEOUS, thought it was HIDEOUS.
Corpus and Teddy leave randomly. Smooth leaves too, probably to get away from this whole thing.
Russo grabs the mic again.
Russo
And as my second act, now that the big man is gone lets be honest, we need a real champion! So f**k it, let's just award the title to someone. Someone I can trust...oh I no, me! I'm the new Winrawr Champion people!
Average N. taps Russo on the shoulder and punches him out. There's no ref to start the match or make the pin though. When a ref finally gets down there, Russo gets the shoulder up after two.
Certificate Of Winrawr & Baked Potato Championship Match!
Average N. vs Vince Russo
Average N picks up Russo, who rolls him up and gets the three!
Mark Henry
Hah! I can't believe Russo didn't get his wig split!
Queen Z
The one time I was behind Average N...
Ellie Phantom
I don't like Russo!
Russo is celebrating his win, but Average N. is celebrating his loss even more.
Vince Russo wins by Pinfall via Rollup in 0:05Average N.
I can't believe it mama! I'm a champion! I wanna thank Vince for the opportunity! And the man, and the white folk for supporting me!
Queen Z
I knew the man was crazy but he's thanking people after he won a title you don't want, by losing his match!
Ellie Phantom
Ah hush, it's his moment!
Steve Storme is walking backstage when he knocks into Goldust. Why Goldust is in the 4DK arena doesn't matter.
Goldust:
Oooh, Steven, The One himself! And of course, it is I...
breathes in
...
Storme:
I know who you are. You don't have to do that weird breathing thing, k?
Goldust:
Very well. I must say, it is a pleasure to meet you. Perhaps we can discuss-
Storme:
Not now. I'm busy.
Steve brushes past Goldust but The Golden One grabs his arm.
Storme:
Let go of me...
Goldust:
Steven, I just wanted to ask you-
Storme:
Now.
Goldust:
It will only take a minute to-
Suddenly there is a blinding flash of bright yellow and when it's gone, Storme is stood alone. Confused, he glances around for Goldust but the freak is nowhere to be seen. He then looks to the ground and sees simply a pile of gold dust at his feet.
Storme:
... wow... the cat wasn't lying about this s**t...
Steve quickly leaves the scene, still in shock that he's unintentionally murdered Goldust.
Queen Z
Now it's time for our main event! Are you excited, El?
Ellie Phantom
So f**king much!
Queen Z
Uh, there's no need for that. Anyway, Steve Storme vs his student Psycho Dragon in a Light Tube Coffin Match - this one's going to get bloody like my period!
Ellie Phantom
...
Hipp
The Queen's more bloody than Ric Flair anytime he bleeds.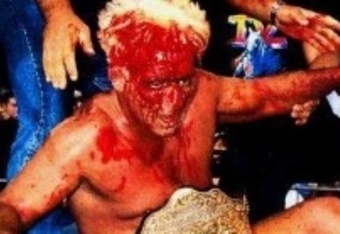 Psycho Dragon's music hits and he comes out to a decent reaction from the crowd.
Queen Z
Do we actually know what PsyDrag's music is?
Ellie Phantom
No but I don't think anyone cares either.
Queen Z
Valid point, Ellie.
Hipp
I know what it is but it's more fun when only I know things.
"Mother" by Danzig hits and the crowd erupts into a loud mixture of cheers and boos. Storme steps through the smoke with a light tube in each hand.
Queen Z
Oh no. The One is armed and dangerous!
Ellie Phantom
It looks like PsyDrag is picking up some light tubes himself though.
Hipp
But he's still PsyDrag...
As Storme climbs into the ring, PsyDrag has one in each hand too. In the middle of the ring is a large coffin with stacks of light tubes inside. They both glance into it before approaching each other slowly.
Light Tube Coffin Match
Steve Storme vs Psycho Dragon
Queen Z
Lets get this one underway!
Hipp
How about we get one underway...nevermind your on your period.
The bell rings and Storme immediatly lunges towards PsyDrag. The masked man rolls forward under Storme's swinging arm and then leaps up. When Steve turns round, Psycho Dragon smashes a light tube across his head. Storme stumbles backwards a little and PsyDrag quickly connects with the other light tube which makes Steve drop his light tubes.
Queen Z
Well The One is not living up to the cat's claims thus far...
Hipp
That cat so wishes it were Ko-Ko!
PsyDrag kicks Storme in the stomach and hoists him up onto his shoulders. He then hits the FU, sending Steve into the light tube filled coffin. The crowd jeers loudly for the use of John Cena's finisher.
Hipp
What's John Cena's move doing in the 4DK arena?
Bobby Heenan
And whose side is it on!
Hipp
What are you talking about Heenan!
Ellie Phantom
Damn! PsyDrag just hit the FUUUUUUUUUUUU!
Queen Z
I believe you mean the Attitude Adjustment.
Ellie Phantom
Well I doubt it's changed Storme's attitude, just given him some nasty cuts on his back from those light tubes!
PsyDrag flips the coffin lid, shutting Storme inside and then slowly begins climbing the nearest turnbuckle.
Queen Z
Remember, the match isn't over until the coffin's been destroyed too. PsyDrag is going to launch himself through the lid, I think!
As Queen Z predicts, this is exactly what PsyDrag
tries
to do. But as he flies through the air, a blinding flash of yellow light covers the entire ring. When its gone, Steve Storme is standing on top of the coffin with a light tube held high into the air. Psycho Dragon is on the mat writhing in pain.
Queen Z
WOW~!!
Hipp
Your a...great...commentator...
Ellie Phantom
What the hell happened there?!
Queen Z
I don't know but it was cool as f**k and now Storme is control once again.
Ellie Phantom
The cat's right, he IS The One!
Psycho Dragon climbs to his feet but Storme jumps off the coffin and knocks PsyDrag back down with a flying light tube assisted clothesline. He then drags Dragon up again and connects with a few knife-edge chops in the corner. There's a stack of light tubes laying around the ring so Storme drives PsyDrag through them with a Razor's Edge.
Ellie Phantom
All hail The One!
Queen Z
I think someone has a crush...
Hipp
Yeah Z stop crushing on me...
Ellie Phantom
Grow up.
Storme pulls PsyDrag up and roughly throws him into the coffin. He then poses for the crowd, raising both arms up into the air. Dragon makes a surprising comeback though, jumping out of the coffin and spinning Storme round. They trade punches before Steve takes the advantage and connects with several in a row. He then Irish whips Dragon into the corner and smashes into him with a running big boot.
Queen Z
POW!!!
Ellie Phantom
Right in the kisser.
Hipp
That's wordage for ya.
Storme then scales the turnbuckle and hits a SICK flying curbstomp, driving PsyDrag's head into another stack of light tubes. Now Dragon's out cold so Storme easily throws him into the coffin, shuts the lid and then focuses on it for a few seconds.
Ellie Phantom
What is Storme doing now? He needs to destroy it, not admire it!
Hipp
I taught him this one...
All of a sudden with a flash of blinding yellow light, the coffin explodes and roaring flames appear from it. The bell rings and the crowd go wild. "Mother" hits again and The One basks in the applause.
Hipp
Mother!
Ellie Phantom
FUCKERRRRRR!
Queen Z
Storme with a supernatural...super move?
Hipp
"Storme" wouldn't be "with" it if it we'ren't for my teachings.
Steve Storme def. Psycho Dragon via Supernatural s**t in 34:58Queen Z
It's time Hipp. Come with me.
Queen Z takes Hipp by the hand and leads him into the ring. They stand next to Storme and the three of them simply stare at the fire. Z takes a microphone and the lights go off.
Queen Z
It's only been a few weeks that 4DK has been with all of us. But it felt like a couple months. And every moment spent in this arena is a moment I am proud to have experienced. But now, Russo is in charge. I get it Hipp, you thought it was your friend. Russo may have tricked you, but I will not ever. Jay...Deej...I love you. I cannot hide it any longer, nor should I. I don't know if this is the right time to tell you this but, just before the show started tonight I learned something that I can't keep from you....I'm pregnant! And yes...it's yours.
Hipp hugs Queen Z, lifts his mask half off his face and kisses her. Z drops the microphone and the crowd does a big "Awwwwwwwww." But then, shouting commences. The lights come on. Someone is yelling bomb! over the PA, and many fans run out of the arena. Storme hears the voice and checks under the ring, where he see's Vince Russo giving orders to the PA guy via cellphone. Storme pulls Russo from under the ring and throws him in the ring where he meet's the Queen's slap. Storme informs everyone via microphone it was just a false alarm. But even after Russo has been knocked out, someone else is now screaming bomb only this time nobody belives him. That is, until Steiner finds the bomb and see's it's on 5 seconds until it explodes.
Scott Steiner
f**k!
That f**k was enough of a warning for Hipp. The lights flash off and back on. Hipp has teleported everyone out of the arena and to a safe point, back in one of the first three dimensions. However this has taken much of Hipp's strength out of him. In fact, while everyone else is celebrating their escape from death, Hipp is laying in Queen Z's arms dying. Storme kneels down beside them. Hipp utters his last words.
DJ Hipp
steven...raise...the kids...with her.
Hipp dies right then and there in front of everyone. Z immediately begins to cry and Storme looks to the sky and does the typical NOOOOOOOOOOOOOOOOOOOOOOO! thing you do when a good friend dies. So Lonely by Tech N9ne starts playing as we zoom in on Steiner's face, then Storme's, Queen Z's, and finally, Hipp's.
We fade to black.